I'll be honest, I'm linking this article just so I can remember for the next time I have enough money to do something crazy like this. The article is How to Really Drive Across the U.S. Hitting Major Landmarks and it manages to hit every continental US state and nearly every major landmark you'd want to hit like the Grand Canyon, Yellowstone, Mount Rushmore, and a host of others. I plan to use it as a basis for my next big roadtrip, should I ever have the spare cash to do that. :) Here's a map route and a list of the destinations…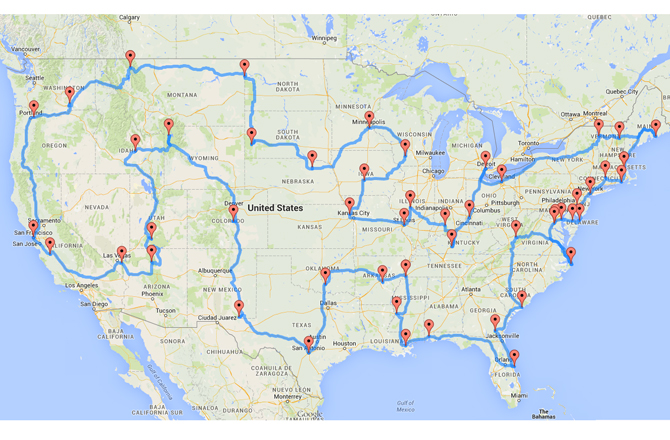 The landmarks you'll hit on this epic roadtrip,
Grand Canyon, AZ
Bryce Canyon National Park, UT
Craters of the Moon, ID
Yellowstone National Park, WY
Pikes Peak, CO
Carlsbad Caverns National Park, NM
The Alamo, TX
The Platt Historic District, OK
Toltec Mounds, AR
Elvis Presley's Graceland, TN
Vicksburg National Military Park, MS
French Quarter, New Orleans, LA
USS Alabama, AL
Cape Canaveral Air Force Station, FL
Okefenokee Swamp Park, GA
Fort Sumter National Monument, SC
Lost World Caverns, WV
Wright Brothers National Memorial Visitor Center, NC
Mount Vernon, VA
White House, Washington, DC
Colonial Annapolis Historic District, MD
New Castle Historic District, Delaware
Cape May Historic District, NJ
Liberty Bell, PA
Statue of Liberty, NY
The Mark Twain House & Museum, CT
The Breakers, RI
USS Constitution, MA
Acadia National Park, ME
Mount Washington Hotel, NH
Shelburne Farms, VT
Fox Theater, Detroit, MI
Spring Grove Cemetery, OH
Mammoth Cave National Park, KY
West Baden Springs Hotel, IN
Abraham Lincoln's Home, IL
Gateway Arch, MO
C. W. Parker Carousel Museum, KS
Terrace Hill Governor's Mansion, IA
Taliesin, WI
Fort Snelling, MN
Ashfall Fossil Bed, NE
Mount Rushmore, SD
Fort Union Trading Post, ND
Glacier National Park, MT
Hanford Site, WA
Columbia River Highway, OR
San Francisco Cable Cars, CA
San Andreas Fault, CA
Hoover Dam, NV
The cool thing about their route is you can hop on at any point and just keep driving and you'll come right back home…eventually!