A very good question to ask was asked on Twitter:

I thought that was a really good question and I thought it might be a good idea and helpful to sum up my answer in a single tweet, if possible: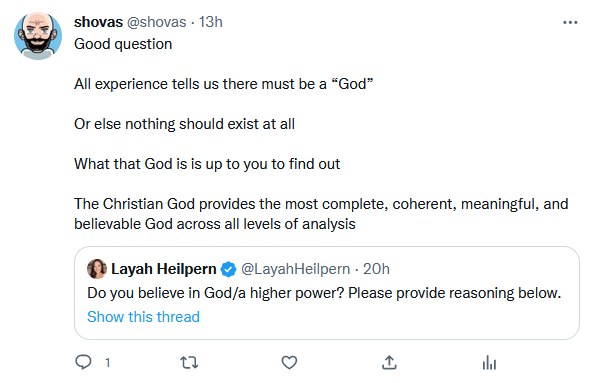 All experience tells us there must be a "God"
What do I mean, all experience tells us there must be a "God"? All material and immaterial phenomena speak of a source, a starting point. Things like the design of the universe, the fine-tuned nature of reality, theories of origins, cause and effect, information theory: All of these speak to a "God". The next logical question is what is that God?
Or else nothing should exist at all
Without a God, there's no reason for anything to exist at all.
We haven't defined God yet. Such a "God" might be nature, itself, but then where did Nature come from and what properties of Nature give it the ability to produce the intelligence and complexity we find all around us?
It seems that without a God, whatever that may be at this point, nothing should exist at all. And I don't mean that in the double-speak way of modern science where they speak of 'quantum fluctuations' as "nothing": Those are "something". I mean actually nothing, void, "no thing".
Whatever ultimately caused all this something is God.
What that God is is up to you to find out
This might sound flippant but if a God is a logical conclusion to draw from existence then it's probably the most important question you could ever ask and answer.
You should investigate God. Is God the universe? Is God all of us? Is God Zeus? Is God Allah? Is God the Judeo-Christian God?
The Christian God provides the most complete, coherent, meaningful, and believable God across all levels of analysis
My answer is that the God revealed in the Judeo-Christian faith answers more questions, and by far, than any other.
The Christian God's story begins at the beginning, reveals Himself constantly and consistently throughout all of our history, and ends at the end, which is, itself, a new beginning.
The Christian God is coherent, understandable, relatable, follow-able, and makes sense of the world around us. He reveals Himself to us and in a way that we can understand Him and also communicate with him.
The Christian God is meaningful and brings both gravity and levity to life by providing the context, source, ambition for life, and the relationship which defines all other relationships.
The Christian God is believable and brings sense and reason to bear on our world, the nature of reality, our history, more so than any other theory of origins.
From surface-level to symbolic, psychological to sociological–and in Christian scriptures–grammar to presentation, speaker to audience, intent to reception, prose to poetry, history to apocalypse: The Christian God and His revelation to us provides the most complete, coherent, meaningful, and believable God across all levels of analysis.
Find out
If you're thinking, right, there must be a God, then I recommend Prisms and Principles to further understand how we can go about discovering God in the material and immaterial world.
What's up with God, Jesus, and Salvation? Find out in Free Gift.
Does the Christian God sound too harsh? Are there too many rules? Too many dos and don'ts? See what Jesus had in mind when He died and rose again to liberate you: Be perfect as your Heavenly Father is perfect – Wait, what?
For God so loved the world that he gave his one and only Son,
that whoever believes in him shall not perish but have eternal life. John 3:16
Credit: Featured Image