'Lord, when did we ever see you hungry and feed you? Or thirsty and give you something to drink? Or a stranger and show you hospitality? Or naked and give you clothing? When did we ever see you sick or in prison and visit you?' -Matthew 25:37b-39
That awkward moment…
…when you see a panhandler at the intersection as you're driving your daily commute to and from work. Each and every day, the same man or woman for a few days or weeks at a time, then maybe a different person for a while, there most days of the work week, and most days you hope to avoid them or to avoid eye contact, at the least. A few more intersections, then you're home free – for one more day…
And you feel a little guilty, but it quickly fades away once you reach your warm home, familiar family and friends, and your safe bed, and your peaceful sleep…
Until your next commute…
Feeling Guilty

This was and is my daily commute to and from work. I have worked in the same general area for over ten years now and I've seen the same kinds of people begging at the intersections I drive through daily.
At first, I tried to rationalize not doing anything because "they'd probably spend it poorly, anyway." I didn't feel quite good but I kept driving my commute and driving right past those who I had no reason to presume their lack of innocence. For a long time, I tried to justify myself with my "good Christian works" in other areas of my life, like church, tithes and offering, and donating to charities online ("charities that help people like them!")–I was doing my part!–but something didn't sit quite right…
Not only heard of, but seen and felt
'For I was hungry, and you fed me. I was thirsty, and you gave me a drink. I was a stranger, and you invited me into your home. I was naked, and you gave me clothing. I was sick, and you cared for me. I was in prison, and you visited me.' –Matthew 25:35-36
What wasn't sitting quite right was living out the life of an "arm's length" Christianity. I'm not sure I knew why for a long time but I came to understand, over a long period of time, that the Kingdom of Heaven Jesus said was near, and the Body of Christ Paul spoke of, consisted of and were built by individuals doing there part, together, one by one by one.
But more than that, Jesus' own actions in mingling with (with!) "the unloved and the unlovely, the weak and the base, the unworthy and the unwarranted, the rebels and the sinners" (George Grant).
It was this realization of real and actual one on one interaction to winning souls for Christ that got me seriously thinking what I could do…
Now we complete the picture because apologetics must not only be heard and argued; it must be seen and felt. –Ravi Zacharias
Enter the Tim Horton's Gift Card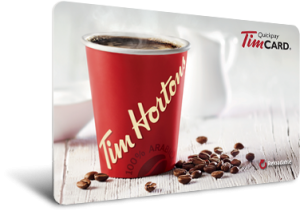 Yes, a Tim Horton's Gift Card. I'm not even joking. Let me explain. I wanted to do something, I wanted to meet these people face to face, if only from my driver seat window. It occurred to me I could just straight up give them change but I wanted to do something a little bit more and a little bit more specific as to why and in Whose Name I was doing this.
Giving food and water is right out of the bible, so, I bought some paper bags and, at the end of each work day, I pack the paper bag with whatever is left over from my lunch, ideally untouched and still in zip lock bags, but at least clean, presentable, and something that I would eat, myself.
I also put in a verse/prayer card. These are those little rectangular cards, you can buy from Christian sites or book stores, that I purchased a long time ago. They're great but I have many of them so giving them away is not a problem. I believe in the "living and active" power of God's word, including His Written Word, and I know God will use His word if I put it out there.
Lastly, I wanted to do something more…permanent, more ongoing. That's where the Tim Horton's Gift Card comes in. Tim Cards are reloabable. I picked up a few at my local Tim Horton's and put them in my paper bags with a little hand-written note indicating the card will reload and blessing them in God's Name.
Now, I can personally only support a few these reloadable gift cards, that's understandable, but there's something to committing to helping someone out long term through these cards that I find valuable in living out the faith.
Directly Helping the Poor and Needy
That's it. A paper bag with food, bible verses, a personal note, and a Tim Horton's gift card. I hand it out the window now when I get the opportunity to see these people at intersections on my commute. I say "God bless you, brother/sister" and that's that. It's just one more step in living the life of a 'little Christ'. I only hope it's one step of many as I grow in my faith.
By the way, I'm not saying this is the only way, it's one way of many that could work for others, this just happens to click with me.
Maybe, just maybe, these kinds of outside-the-box ideas will click with someone or make them think of different ways they can help out. That's all I can hope for :) #Charity365
[It's] God's great affirmation that people matter. It is His dramatic commitment to the last, the least, and the lost. It is the amazing manifestation of His unshakable love for the unloved and the unlovely, the weak and the base, the unworthy and the unwarranted, the rebels and the sinners. The incarnation is God's grace made evident and obvious: people matter; life is sacred; men, women, and children are worth the greatest sacrifice, the supreme effort, the ultimate gift. –George Grant
Credits