Steve McQueen's Le Mans (1971) was a commercial disaster and, by all standard interpretation, an objectively bad film. It's slow, self-indulgent, woodenly acted, sparse in dialog, and even sparser in character development. And, yet, I can count on the fingers of one hand the number of movies I've watched more than once and McQueen's Le mans is on that list.
People care about their passions. McQueen's passion for racing dominates this film and that is obvious on any watch. When it comes to story, though, people care about people. Le Mans drives the racing so hard and for so long that viewers are emotionally starved for story between people instead of between cars. When the characters do interact in the movie, it is like a fuel stop for a thirsty engine or new tires for a car out of grip. McQueen is also a dedicated actor, he cares deeply about movies and story, and that plays the minor theme to Le Mans' major theme. As with racing, the long, high-speed Mulsanne Straight is always followed by the abrupt, right-angle Mulsanne Corner. So, too, with action and story in film.
Are you well?

Michael Delaney (McQueen's character) has feelings of guilt over an accident that resulted in the death of Piero Belgetti, the widowing of Piero's wife Lisa Belgetti, Michael's own survival, and the emotional toll of having to relate to Piero's widowed wife, Lisa, who chooses to attend the Le Mans race.
Long before 'strong female characters' ruined women in film, Elga Andersen's portrayal of Lisa Belgetti shows a real woman, with strengths and weaknesses, who is still capable of going to the people and places that brought about the world of grief she now inhabits. Lisa chooses to go back to Le Mans even after the death of her husband there and in spite of the fact that seeing old faces will bring her pain to the surface.
Michael and Lisa meekly meet each other in the dark of the passageways behind the pit stalls. They greet each other, struggling to find adequate words. We come to understand that this is likely a meeting after many months, prior to which they probably both saw each other frequently at races, in pit stalls, and quite likely on very friendly and familiar terms, as Lisa's husband, Piero, was Michael's former teammate.
Michael is clearly out of his element. He, too, has strengths and weaknesses. Racing his clear strength. But his well-meaning nature brings him to ask, "Are you well?" Lisa looks up with an almost-hopeful almost-smile and nods. The conversation falters and Michael asks if she'll excuse him. He returns to his trailer, empty but safe.
Would you like some coffee? No, thank you.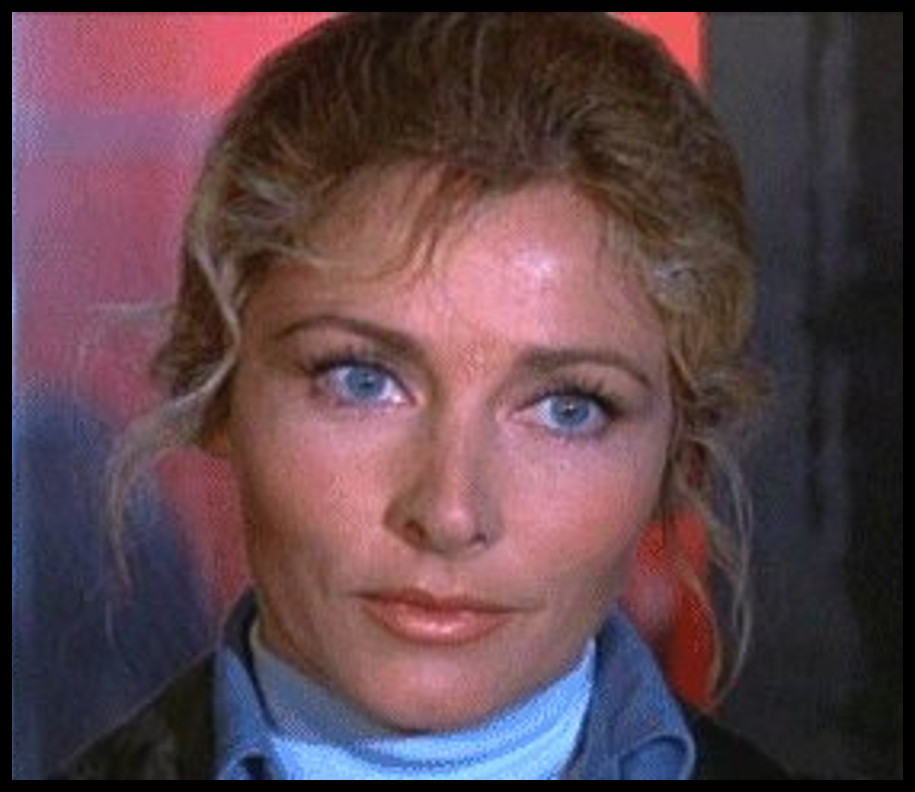 Lisa is a graceful, elegant, and beautiful woman. Attractive women in the dark, dirty, unwelcoming, and wet passageways behind the Le Mans pit stalls are not uncommon, as we see Delaney casually signing autographs for pretty young things who scamper through, but a woman who carries herself with dignity and who is also a widow raises questions. What is she there for? Is she naively looking for a new driver who can comfort her? Is she on the prowl, looking for somebody new? Is she a thrill-seeker, a drama queen, who can't help but follow the race drivers around to vicariously partake in the life-affirming danger of racing? Lisa Belgetti in Le Mans is none of those things.
Lisa Belgetti in Le Mans is a woman seemingly lost and wandering in her grief. When she meets another race driver behind the pits, he asks her a question which, at times, is not an uncommon gesture of more than mere kindness, but Lisa sees the truth. They pity her. "No, thank you." Lisa isn't looking for sympathy.
I'm here for myself.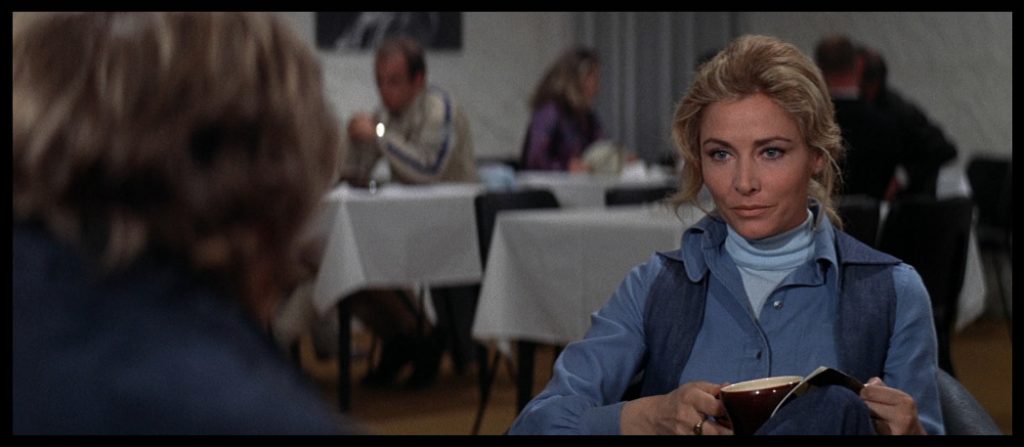 Later in the film, Michael goes to a restaurant buffet that appears to be for drivers. Lisa is there, unbeknownst to him. That Lisa appears to have chosen a driver's eatery reveals to us that she is visiting all of the old places she would have gone with her late husband. She drinks a coffee and flips through the pages of a magazine, likely about racing and race drivers. The coffee and magazine are old comforts, allowing her to lose herself for a moment. Knowingly or not, she is going to those places, and those memories, that are more easily put away elsewhere.
As Michael goes to sit, he notices Lisa by herself, unaware, her back to him. He struggles for a moment with the idea of disappearing, to focus on racing, his strength, over dealing with people, his weakness. His better nature wins out, however, and he goes to sit with her.
When asked by Michael what brought her back, she responds simply, "I'm here for myself."
They continue to talk as the camera pulls away and we are left with an impression of a growing connection.
This is a professional bloodsport.

During one of his stints, Michael is involved in an accident. He is shaken but escapes largely unscathed. When he returns to his trailer, Lisa meets him. The accident has brought all her questions to the forefront because of the familiarity and closeness with the accident of her late husband. Lisa, though, seems incapable of finding the words to express herself. Michael seems to sympathize and says to her, "This isn't just a 1000-to-1 shot. This is a professional blood sport. And it can happen to you. And then it can happen to you again."
Lisa, perhaps realizing Michael is someone who can understand her questions, asks, "When people risk their lives, shouldn't it be for something very important?" After his escape from injury or even death, Michael's lighthearted response gives us an insight into his view of life. "Well, it better be," he says.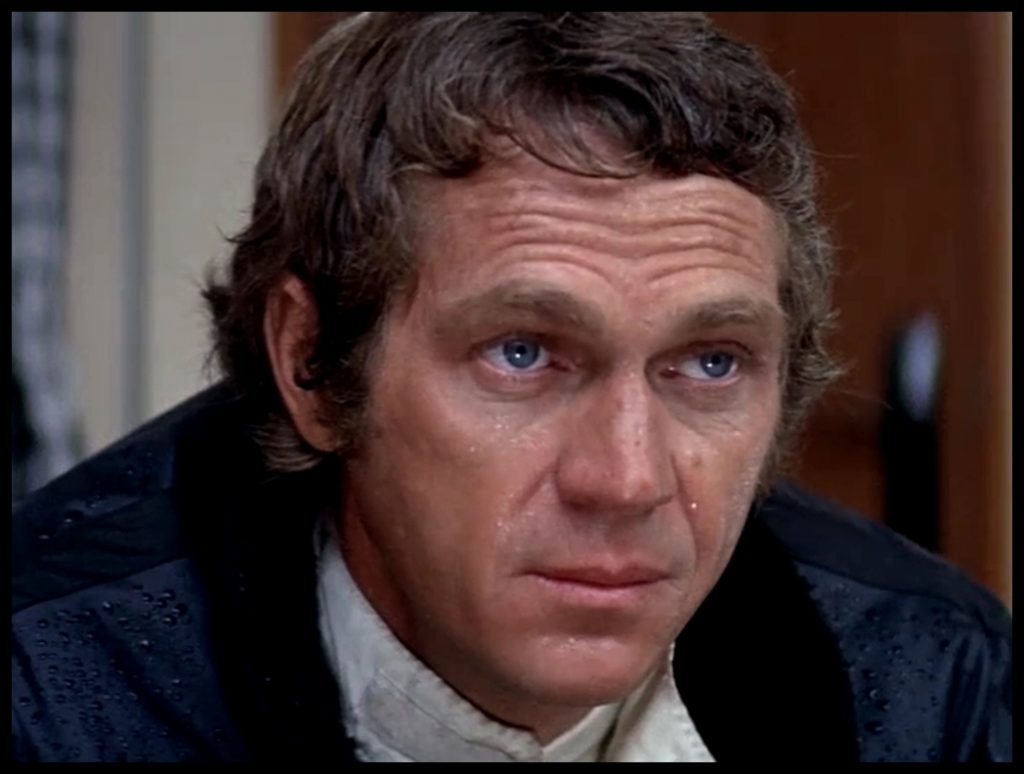 Michael's sympathy, as one who is in the same shoes as her late husband, seems to give Lisa confidence to ask what's really on her mind, "But what is so important about driving faster than anyone else?" What Lisa really seems to be asking is, "Why was my husband's racing more important than me?"
Lisa's direct question gives Michael permission to respond directly, honestly, as a race driver really would.
Michael tells her the hard truth, "Lotta people go through life doing things badly. Racing's important to men who do it well. When you're racing, it's life. Anything that happens before or after is just waiting."
Lisa looks up intensely at Michael, as if she has finally been given the truth and has come to some realization.
At that moment, team manager David Townsend enters the trailer and asks Michael to drive again. Michael meets Lisa's gaze, not to ask permission, but as if to say that this is what race drivers live for.
I want Porsche to win Le Mans.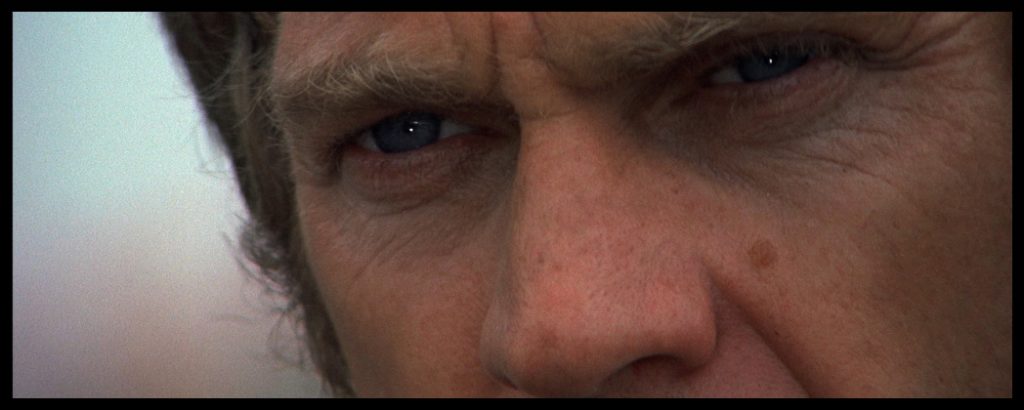 As Michael prepares to drive again, David tells him, "I want Porsche to win Le Mans." We, the viewer, want Michael to win. We can feel the anticipation of victory. We can even feel that a win would bring Lisa happiness. We want the happy ending.
And Michael has what it takes to win the happy ending. He makes up time on track and quickly catches up to the remaining Ferrari, in second, and his Porsche teammate who is leading the race.
Michael can win the race, himself. He has the pace and skill.
Meanwhile, the Ferrari he's chasing is also chasing the leading Porsche, pressuring, and the Ferrari clearly has skill and opportunity to take the lead away from Porsche.
It is clear that if Michael doesn't try to win the race for himself then Ferrari will win.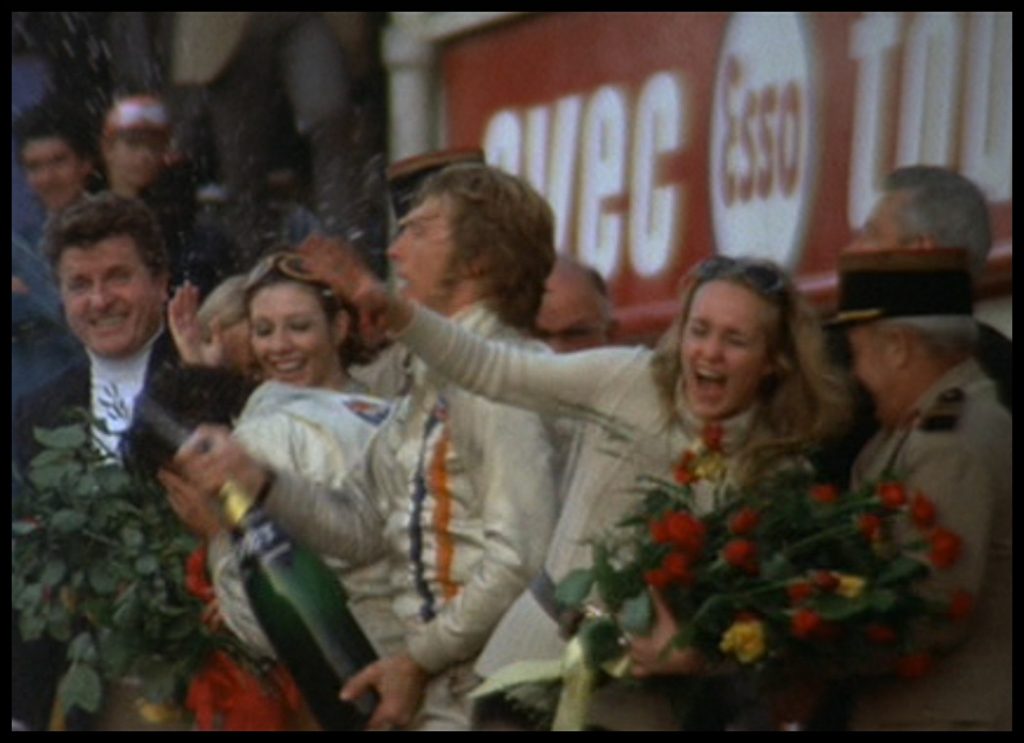 But Michael doesn't do that. Instead, Michael's better nature comes to the fore and he blocks, bumps and jostles with the Ferrari until the Ferrari is forced to pull back. The two Porsches continue to a one-two finish, Michael's teammates winning the race.
Michael's passion and strength is racing and winning. Fate, however, had a new passion and a new strength for him to learn. Michael came to terms with himself and gave up a win for something better.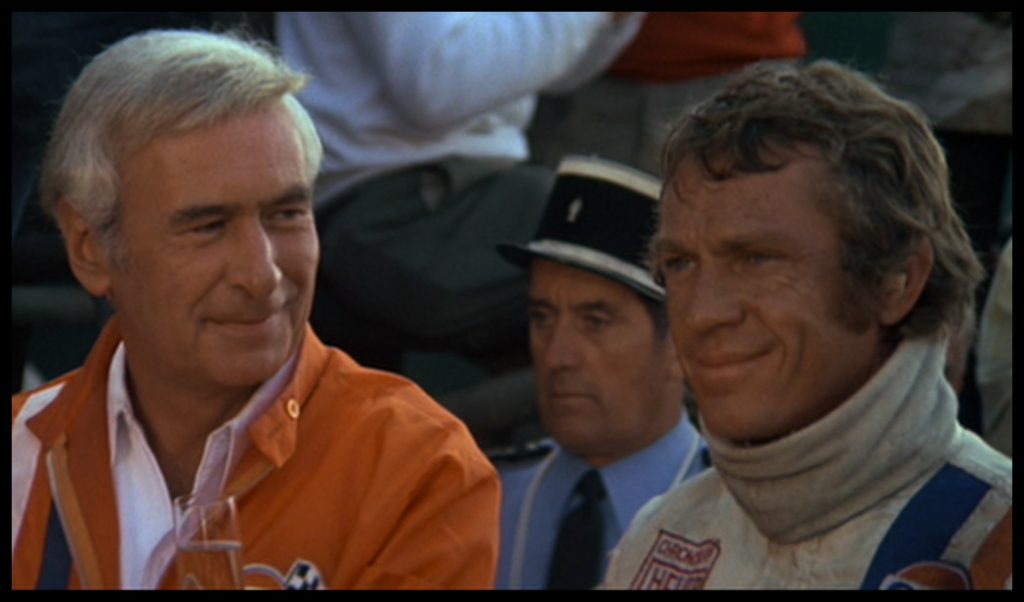 When David told Michael he wanted Porsche to win, he didn't mean he wanted Michael to win. In team sports, you win when the team wins. David simply thanks Michael for helping the team win. Over the course of racing the 24 Hours of Le Mans, Michael was shown another passion and another strength which wasn't the happy ending he wanted but was the happy ending he needed.
Life

In the final shots of the movie, while standing beside David, watching the celebrations he is not a part of, Michael and Lisa catch each other through the crowd. With celebration all around them, Michael makes his way through the crowd, away from the victory celebration, toward Lisa.
The last glimpses we see are of two people, perhaps a final picture of complementary strengths and weaknesses, passions and problems, finding each other in a sea of fans celebrating a Le Mans victory that is no match for the triumph captured in this moment, man over himself and woman over herself.
Resources