I started working out this spring for the first time at my local Good Life and one of the first things I knew I wanted to do was to know when I could ramp up my sets and reps. I'm a big user of the Apple iPhone Reminders app so I figured I'd put it to good use recording my workout: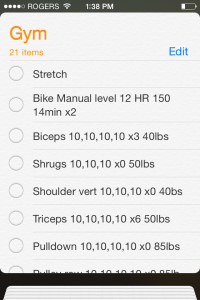 But why track your workout like this? Because working out is a long-term activity. Tracking your stats in a simple, easy way like this will help remind you where you've been, where you've gotten to, and provide a clear path of improvement so you'll be on an upward workout trend and not plateaued or even going down (how would you know without tracking)? You'll feel good about continuous improvement and more confident because you know where you've come from and where you're going.  I think most people would find tracking their workout tedious on paper or they just don't know what workout app to use, etc. So I figured I show how it can be done with an app that most people have already.
So, what you have above is a Gym tab in the Reminders app and I simply list all my exercises in the order that I do them. I also record any pertinent settings for the machine (like Level 12 and target heart rate 150 for the bicycle). Then I record the sets and reps ("10,10,10,10" – ie. 4 sets of 10 reps each). I record the workout count ("x4") meaning how many times I've done it (usually indicates once per workout). I also record the weight.
See how compact and easy it is to review your current workout when you record it like that? And it's in the Reminders app that I use for everything else so it's easy and convenient to use.
For the record: I'm not a licensed gym trainer, physiotherapist or doctor. The ideas in this post are from my personal experience and I hope they can help some beginners as well.
Following I've included some personal thoughts, recommendations and anecdotes about my experience at the gym since I've started. I hope it helps someone out there get started as well!
Continue reading "How to Track Your Workout at the Gym as an Absolute Beginner"