Update
2015-07-03:
I just put in the new trio of springs tonight and I am very pleased indeed! I had previously put in and removed the brake due to an Achille's Tendon issue but I've now put them all back in and they absolutely transform the pedals into a much higher quality pedal set. The feel is just so much nicer and more informative. I still say a must-have upgrade for G25/G27 pedal owners and well, well worth the price.
Update 2015-06-05: GTEYE has released throttle and clutch springs! I haven't tried them but if they do for throttle and clutch what they do for brakes they're a must have for G25/G27 pedal owners!
Update 2014-09-01: Following up on my concerns about my wheeled office chair moving too much because of the new spring stiffness – it's fine now and my chair stays in one place. I didn't need to do anything to the chair to get it to stick so I'm happy about that.
Update 2014-08-20: The pedal now feels very pliable now, very movable, not the stiff thing I thought it was in the beginning. This is great! I can still feel the progressiveness of it and I can still finesse the top range of motion into corners where fine motor control is needed. It's amazing how much my perception of the feel of this pedal has changed, for the better, since I started using it just over a week ago. Well worth $30 as the first upgrade for Logitech G27 owners!
Update 2014-08-15: I have to say I'm back to normal and at home now with this new brake spring. I feel I'm more consistent, as well. I've put in a lot of laps of practice in iRacing before stepping into a few races and I have to say, while I had my doubts about how I would perform with the new brake spring, I performed quite well in the race and the brake pedal was really not a problem for me. This is a great upgrade and I highly recommend it for G27 owners!
Update 2014-08-12: I emailed the GTEYE guys about a less stiff but still progressive spring and he replied that it wasn't really something they were going to do but he did give this interesting tidbit: "If you study the spring rate graph, you will notice that the initial spring rate is the same as the original spring, and by the end of its travel, its about 80% stiffer than the original. To my best ability this was the most appeasing to the larger audience, trying to find a one-spring fits all design, that does not detract in any way to the racing experience."
Update 2014-08-11 – 2: Just a few hours after I received the brake pedal, and I was getting 1:54s/1:56s on a course I can do routinely at 1:52, I'm already back at 1:52.5s high 1:51s! I'm also starting to feel how this brake is going to help me be more consistent. The resistance you feel from the pedal really helps you stick to a certain level of pressure much more easily than with the stock pedal which, I take it, is so easy to move around that your legs just don't have that level of fine motor control. I'm very pleased to see how this is turning out so far!
Update 2014-08-11: Check your brake calibration! In iRacing I noticed a little bit of red was showing on the brake pedal meter while driving without touching the pedal. That meant the game thought I was pressing the pedal a little bit. No problem, though, just go to your options, click on the Pedals button and it'll allow you to recalibrate. That fixed it for me!
GTEye Progressive Brake Spring for Logitech G27
I've just received my new GTEYE progressive brake spring (eBay page) for the Logitech G27. I'm writing this post as I assemble the pedals and then step into a game and actually try it for the first time going around a corner(!). My thoughts so far…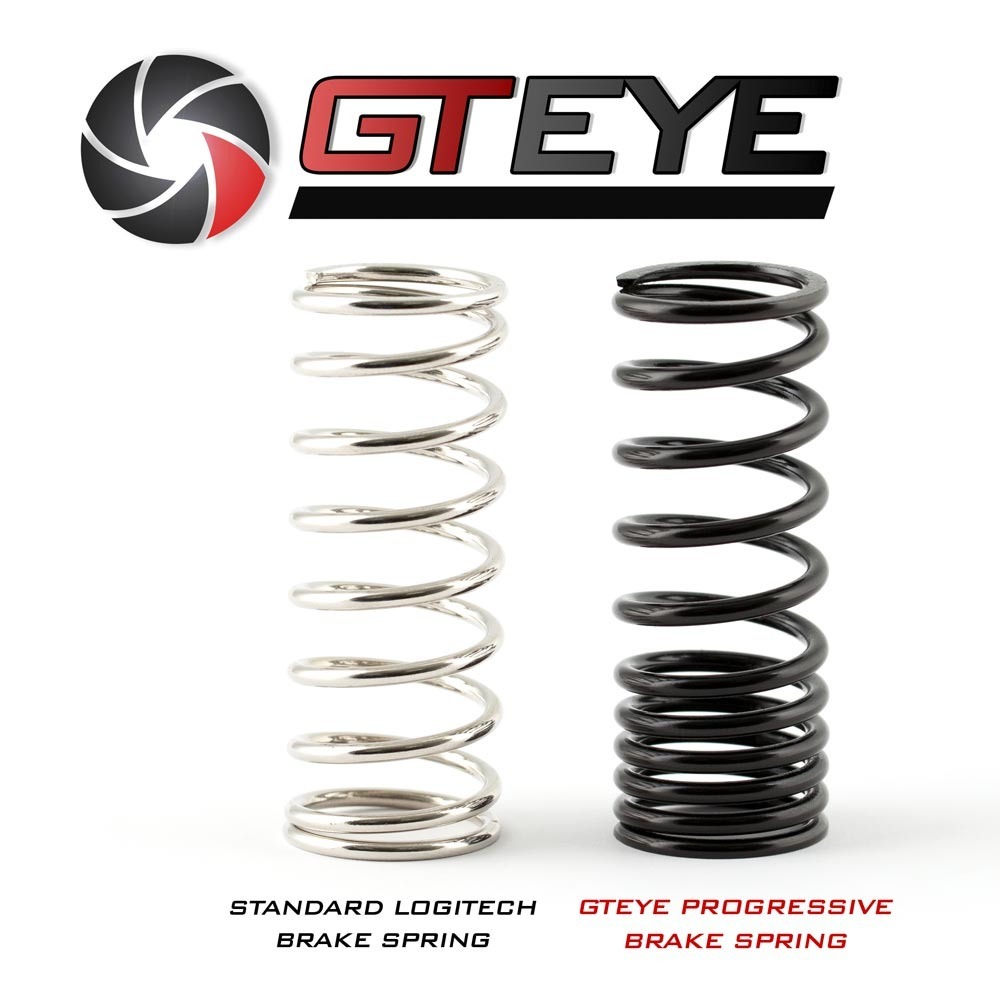 Continue reading "GTEye Progressive Brake Spring for Logitech G27"